Next Major
Referee Assignment

NASL

Fort Lauderdale
v.
FC Edmonton

Apr 19, 2015 - 14:00(EDT)
@ Clarke Stadium, Edmonton

Role: Referee


Today's FIFA Laws of the Game extract
Law 17 - A goal may be scored directly from a corner kick, but only against the opposing team.


---
Current Position of the
International Space Station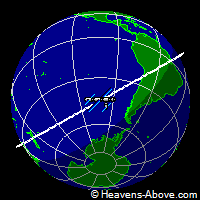 Live chat!!

---
Save this site to your phone



---
ok so yeah - not a lot of entries...
Saturday April 11, 2015
... and the reason for that is because (cue: broken record) I've been busy.

LLO finished off the second week and it went really well. Whenever the group gets into the theatre, the group gels. The audiences enjoyed the show and when that final curtain went down there was a huge sense of relief - we actually pulled it off!! We're now in the process of compiling all the reports and lots of meetings and figuring out what worked well and what needs to be improved upon.

Refereeing has also been going well. I was invited to the High School Provincials and was assigned to the Finals with a referee that actually ref'd ME when I was playing many years ago. It, too, went really well and the atmosphere was exciting.

The break between indoor and outdoor soccer is about a month or so. I mean, there are still a few more indoor games to do but only in some of the smaller leagues. The Outdoor season officially starts at the beginning of May. However, I already did a game at the Olympic Stadium between the Impact (MLS team) against one of their Academy teams. The final score was 6-1 but I called Penalty Kick right in the last seconds of the game against the Impact and the Academy team scored. I have also been assigned a game in Edmonton in which I will be the Referee and am REALLY looking forward to it.

Also newsworthy is the fact that "V" got her own car - and a whole new job!! I'm so proud of her... she's really growing up!

This weekend I'm taking a course given by the Federation that deals with the "business" side of soccer - management and budgeting skills. It's a pretty interesting seminar and the presenters are very good. Day one is complete and day two is tomorrow.

That's it for now!